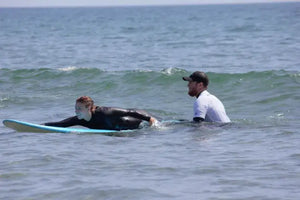 SURF LESSONS
LEARN TO SURF IN NOVA SCOTIA
Our Collections
The best collections of Wesuits, Surfboards, Winter Wetsuites and Surfing Accessories
Staff Favorites: Boards
Firewire Seaside
"Works great in all conditions. Very easy to paddle and get into any wave and super lively and maneuverable under the feet. Really fast and can make it through flat sections. It's my go to in almost any NS surf." –Nora
"Fast, lively board, a lot of paddle power." –Matt 
"My favorite board for the past two years. Excellent speed and super maneuverable."–J
"Super fun and responsive. Glides through close-out sections like butter. It's like putting a turbo charge on a short board but with the same amount of control."" –Bridget
Click here for the full Seaside description and dimensions. 
Chilli Mid Strength
 "The mid strength is a well balanced high performance and cruise mid length. All the foam in the nose allows you to get into a wave early and pop up from behind the peak. Once you are up the bottom contours will gather all the speed you will need to make it past any section you need to beat. The rails allow it to pivot from rail to rail smoothly. The mid strength turns with ease." –Lucas
"Paddles like a mid-length, rides like a short board." –Matt 
"Never had a mid-sized board ever turn so well. Nice alternative if you don't want to use a longboard. It would be a great short board for a big guy." –J 
"Super easy to paddle, take-off and ride while the rocker and tail does not hold you back in your turns and feels like you're riding a short board at moments." –Brett 
Click here for the full Mid Strength description and dimensions.